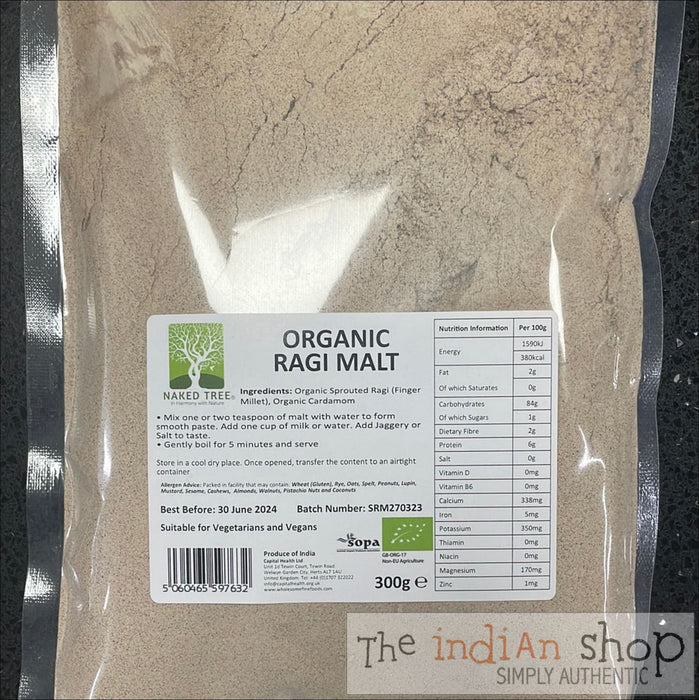 Naked Tree Organic Sprouted Ragi Malt
Sold out will be back soon
Sprouted Ragi flour.
Organic Sprouted Ragi Malt. Ragi (Finger Millet) is one of the oldest cultivated millet in India. It is rich in antioxidants, vitamins, and minerals. It exhibits anti-diabetic, anti-microbial, and anti-ulcerative properties.     
Ragi is sprouted and dried at low temperatures to retain maximum nutrition. Grains are then cold milled (flour is not heated while milling) are not exposed to scorching heat. Low temperature means the nutrients are retained in the flour.     
Whole Grains are Sprouted to unlock vital nutrients that are readily absorbed by the body.   
Sprouted grain flours are digested by the body as a vegetable not as a starch.     
Easy to digest due to accelerated enzyme activity in sprouted grains.  Sprouting removes anti-nutrients which are substances that block the absorption of nutrients. Sprouted Grains are lower in carbs, higher in protein and fibre.     
Traditionally found in south India, ragi is used in diabetic management, as baby food, and as a calcium supplement.     
Use for daily baking, biscuits, cakes, bread, roti, paratha and pastry. Suitable for Vegans and Vegetarians.   
Store in a cool and dry place, out of direct sunlight. Once open transfer the content to an airtight container. Allergen Advice: Packed in facilities that handles  Wheat (Gluten), Rye, Barley, Oats, Spelt, Crustaceans, Eggs, Peanuts, Soybeans, Milk, Celery, Lupin, Mustard, Sesame, Sulphites, Cashews, Almonds, Walnuts, Hazelnuts, Pecan nuts, Brazil Nuts, Pistachio nuts, Macadamia Nuts (Queensland Nuts) and Coconuts